Geen zin om te koken? We hebben alles in huis om een feestmaaltijd bij jou thuis op tafel te toveren. 
Praktisch:
terug open voor echt en takeaway vanaf donderdag 10 juni. 

Graag bestellen via 

hello@peper.be

 (kan ook de dag zelf, maar liefst een dag op voorhand). 

Of bellen op 0485/95 99 47.
Om op te warmen: 
palak (spinazie) with grilled tofu met Indian fried rice (vegan) 14 euro
palak (spinazie) chicken curry met Indian fried rice 15 euro 
harissagehaktballetjes met couscous 14 euro
kurma curry met Indian fried rice (vegan) 14 euro
kerala prawn curry met Indian fried rice: 16 euro
kip tikka masala met Indian fried rice  15 euro
paneer tikka masala met Indian fried rice 14 euro
dahl (linzenschotel) met Indian fried rice 13 euro
1 liter Tom yam soep (met tofu) (vegan) 10 euro
Iets zoets:
brownie 5 euro
bananencake met walnoten 5 euro
Home made: 
mangopickles mild of spicy 8 euro
mangochutney 8 euro
papadums 6 euro
granola 10 euro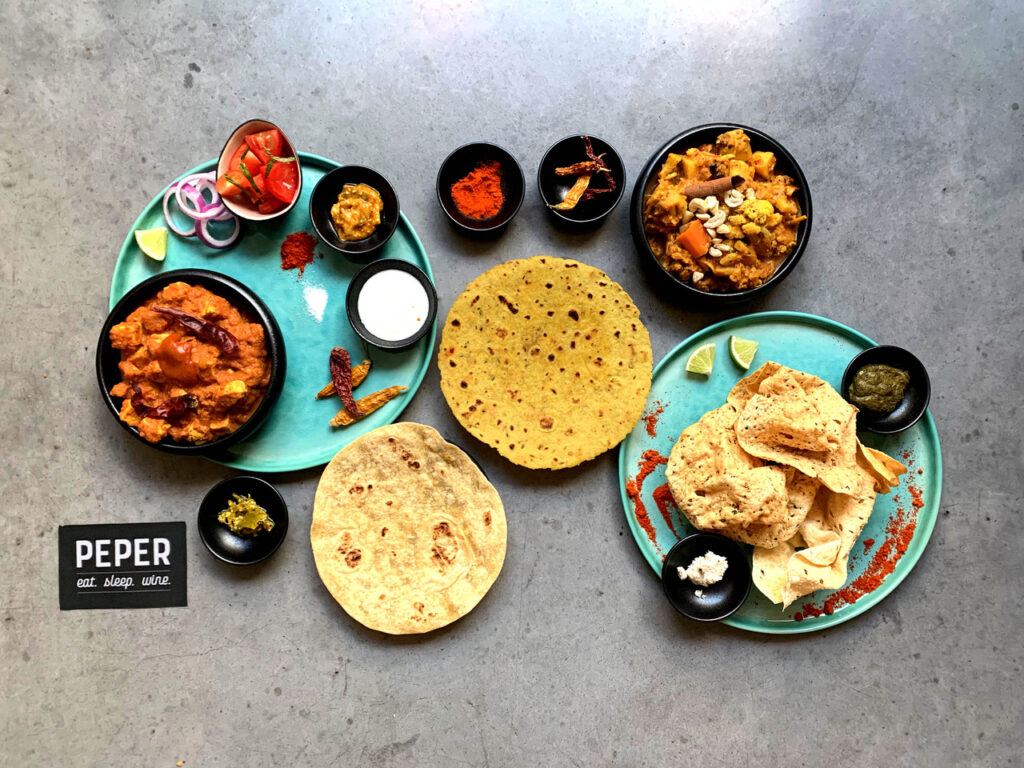 Een brunch of apérobox in het weekend?
In het weekend mag het iets meer zijn… verwen jezelf (of iemand anders) met onze weekendboxen.
Durf eens iets anders proberen… onze Indische brunch. Hartig met veel smaak maar niet te pikant: papadums (Indische chips) & pickles, raita bioyoghurt, egg masala, linzen, fried rice, tomatensalade met verse munt, ajuin met chunky chat masala, ook nog een vers sapje en een half flesje Belgische witte wijn (30 euro per persoon)
Wil je een box tout fait om de aperitief in te zetten, in onze aperobox vind je een half flesje Belgisch wit en rood, met een kaas- en charcuteriebord (Hinkelspel en Raemdonck), papadums & pickles en chili cheese popcorn… (35 euro)
Graag 2 dagen op voorhand bestellen. Brunch kan momenteel enkel de eerste zondag van de maand.
En beetje wijn om het af te maken
Bij Peper houden we ook van wijn… We hebben heel wat flessen staan (ook koud). Of kies één van onze wijnpakketten.  Leuk als kado en leuk voor jezelf. Je kan ze komen ophalen of we brengen ze naar je toe. Zo steun je niet enkel Peper maar ook onze favoriete (Belgische) wijnhuizen.