Het duurt allemaal lang. Corona, het niet kunnen afspreken met iemand op restaurant, het thuis zitten… Ik weet vaak niet meer welke dag het is en het is nog niet gedaan. But life goes on en er moet iedere avond eten op tafel komen. Daarom een paar tips op een plateauke. Doe ermee wat je wil, maar bekijk vooral het recept: eentje om je vingers van af te likken. Dat, met een wijntip die het gerecht compleet maakt, en je bent niet ver om van je avond een klein feestje te maken. Nu jij nog… En bam, topavondje thuis.
Tip 1: (changement de) décor.
Eet je altijd in de keuken, dek de tafel eens in de living. Is keuken en living één, kleed de tafel anders aan. Gebruik een ouderwets tafelkleedje, zet naamkaartjes, leg servietten, zet een bloemetje op tafel (moet niet veel zijn, maar een beetje kleur), steek een kaars aan. Maak het gezellig, zorg voor indirect (of gedimd) licht (eerste wat Philip doet, is het licht boven de tafel uitdoen, ik zet dus een kandelaar). Doe het eten in mooie serveerschalen, zet voor een keer geen kookpotten op tafel. Vul een karaf met water (doe er wat munt en limoen bij) en gebruik mooie glazen, meer dan één. Oké, je hebt mss wat meer afwas straks, maar what the hell. PS: zet de tafel voor je kookt, dan heb je al iets om naar uit te kijken.
Tip 2: kook iets anders.
Maak iets nieuws, uit een andere keuken, of iets nostalgisch uit je kindertijd. Maak gewoon dat het niet hetzelfde is als vorige week, of de week daarvoor, en die daar nog eens voor. Onderaan zie je een recept dat werkt: chicken curry met bloemkoolrijst. Oorspronkelijk opgepikt uit De kunst om goed te eten van Hemsley en Hemsley (kookboekentip) en een beetje gefintuned. Het is super gezond, check! Voldoende voor 4 en niet te pikant voor kleine sloebers (als je de chilipepers eruit laat). Als je met 2 of alleen bent, dan heb je er de dag erna nogmaals plezier aan of kan je er iemand anders gelukkig meemaken. Bloemkoolrijst is een topuitvinding. Veel beter dan gewone rijst en je kan er oneindig mee variëren, zeker doen.
Tip 3: wijntip.
Bij het gerecht past een wijn die een beetje diepgang heeft. Ikzelf ben een witte wijn fan en dan kan je niet missen met deze: Chardonnay Exception (onze Peperhuiswijn) of Les Magdaléniens (een o zo volle vette wijn uit Zuid-Frankrijk). Wil je liever rood, dan is de cépage Syrah eentje die er goed bij blent/blendt of Le Dolmen (een biowijn die je volgens de makers op elk moment kan drinken met je vrienden). Enfin, maakt niet uit of de wijn van Peper komt of niet, maar probeer te kiezen voor iets wat niet te licht is. Het gerecht heeft redelijk wat smaak en daar moet je iets tegenover zetten (dus voor wit beter geen lichte of zurige Sauvignon blanc).
Tip 4: have fun while cooking.
Ik ken mezelf, een receptenkok die alles op de millimeter wil volgen maar o zo chaotisch. Oefening baart kunst: ik lees het recept een paar keer volledig door en leg alles klaar (bijvoorbeeld de kruiden doe ik al in een potje volgens de hoeveelheden) en ik pers de look al (want ik vind dat ding voor in de lookpers niet op tijd). Leer loslaten, heb je bijvoorbeeld één van de kruiden niet, google een alternatief of laat het eruit, het zal niet mislukken. En als je bezig bent, leef je uit, niemand ziet je. Allé, bij mij toch niet, behalve Billie die het alleen maar leuker vindt als ik sta te dansen, springen, zingen. Do forgive me my guilty pleasure (en ontvolg me daarvoor niet), maar ik luister soms naar Nostalgie (tot grote ergernis van mijn werderhelft). Klein apertiefje voor mezelf: ik kuis wat radijsjes en dep die in (gerookt maldon) zout, simpel en goed en daarbij een homemade gemberlimonade.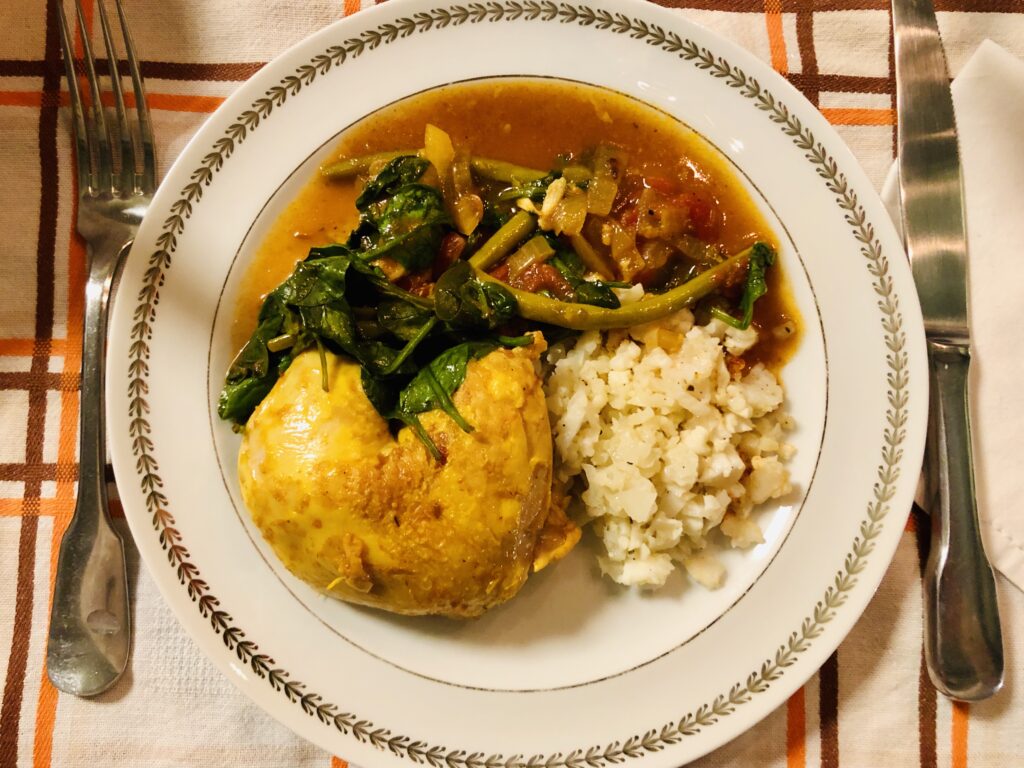 Tip 5: time for hair and make-up.
Dit is uit mijn comfortzone, maar ik probeer iets anders aan te doen. In deze dagen van de everlasting jeans en wintertrui, is het niet slecht om af en toe een efforke te doen. En nog meer voor jezelf dan voor je tafelgenoot. Gewoon die sneakers al eens vervangen door een hak. Mijn jeans blijft meestal, maar ik doe een hemd of blouse aan. En die muts af (ik houd die binnen meestal aan, maar dat is eigenlijk geen zicht).
Tip 6: start a conversation.
Ik heb al veel diners verpest door to do's af te ratelen, door facturen te bespreken, door luidop te denken dat de wereld zal vergaan. Dus I keep that voice down. Begin een keer met een compliment. Dat werkt echt. Of soms doe ik het zo: weet je nog een jaar geleden? (uit het leven gegrepen: dan hadden we nu de wijnkelder af bij Peper. Chance dat die stoelen van pagholz (gevonden op tweedehands van dat schooltje) pasten. Die poten met staalwol opgeblonken en de kauwgum van de schoolgaande jeugd uit de jaren 80 van van onder de zitjes gepetst. Ik was toen ongeveer 5 maand zwanger, kon je dat al zien? Euh, ja. Tussendoor: die kip is toch super, zoveel smaak. En die Magdaléniens past daar perfect bij. Dan weer: hoe zou het binnen een jaar zijn? Corona zou dan toch echt verleden tijd moeten zijn. Dan kunnen we eindelijk die workshops Indisch koken doen. Tegen dan is Billie al 20 maand. And so on… Zit je alleen thuis, ga dan virtueel. Als Philip in Peper is en deliveroo doet (niet op de fiets wel te verstaan), dan whatsapp ik met mijn zus en co en ga zo mee aan (de virtuele) tafel. Ons post-Corona-plan: de muur van Hadrianus afstappen. Is niemand online, dan herbeluister ik Interne keuken op Radio 1 of de podcast van werk en leven.
Voilà, een paar tips. Is het hier altijd zo, nee, maar ik doe echt mijn uiterste best om al die miserie even buiten te laten en het zo gezellig mogelijk te maken. En dat wensen wij jou ook toe! Het is dan wel niet the real (restaurant) thing, maar maak er met veel liefde your thing van. PS: heb je geen goesting om te koken, we doen ook takeaway hé 😉  
Recept: Chicken curry met bloemkoolrijst
2 eetlepels ghee (Indische geklaarde boter) of olijfolie
1 kip in stukken
3 theelepels komijn
3 theelepels kurkuma
2 theelepels garam masala
2 theelepels gemalen koriander
2 theelepels gemalen venkelzaad (of hele venkelzaadjes)
To spice it up (optioneel): beetje gedroogde/verse chilipeper of cayennepeper (wil je pikant gaan: kashmiri chili (poeder)
2 grote uien (in ringen)
6 teentjes knoflook (fijn gesneden/geperst)
2 eetlepels tomatenpuree
4 grote tomaten (fijn gesneden) of 2 blikken tomatenblokjes
5 dl groentenbouillon
300 gram verse boontjes (dop die al voorhand)
3 flinke handen spinazie (was die al op voorhand)
Sap van een halve limoen of citroen
Zeezout (gerookte maldon is lekkerste) en zwarte peper (kampot is lekkerste) (verkopen we bij Peper)
Bloemkoolrijst
1 bloemkool
1 eetlepel ghee of olijfolie
2 eetlepels water
zeezout en zwarte peper
Verhit in een grote pan of stoofpot 1 eetlepel ghee of olijfolie. Kruid de stukken  kip met peper en zout en bak de kip enkele minuten aan (goudbruin)
Haal de kip even uit de pan. Draai het vuur lager en voeg alle kruiden toe. Fruit de kruiden 1 minuut (pas op dat ze niet aanbranden)
Voeg nog de rest van ghee of olijfolie toe en ook de uien. Fruit alles 5 minuten en voeg de look, zout en peper en tomatenpuree toe. Zet het vuur weer hoger.
Leg de kip terug in de pan of pot en doe de tomaten erbij met de bouillon
Laat de kip nu 35 minuten pruttelen (met deksel) (vuur weer lager als het kookt)
Doe de bonen erbij en laat nog kleine 10 minuten verder pruttelen. Doe het vuur uit en check of de kip gaar is. Doe het citroen- of limoensap erbij en proef. Doe eventueel nog wat zout of peper erbij.
Doe de spinazie erop en laat 5 minuten slinken.
Maak de bloemkoolrijst. Cutter de bloemkoolroosjes tot kleine korreltjes. Dit kan in een keukenmachine of met een rasp of met een broodmes. Let op als je een keukenmachine gebruikt dat het geen papje wordt. Doe 1 eetlepel ghee of olijfolie in een pan (ik gebruik anti-aanbak). Doe de bloemkool erin, kruid met peper en zout en doe 2 eetlepels water erin. Leg een deksel op en laat 4 tot 6 minuten stoven. Check of het gaar is. 
Ready to serve!
Ik heb mezelf opgelegd of, beter gezegd, heb het engagement aangegaan om tweewekelijks een blogpost te maken. Zal altijd wel iets te maken hebben met eten, slapen, wijn.. ehum, de dingen die ons het meest blij maken en waar Peper, eat, sleep, wine voor staat. Wil je niets missen, vul dan dat e-mailadres in, en dit type schrijfels zal op magische wijze in je inbox belanden. 
Dank je wel,  
Stefanie